Home Theater Atascocita Texas is a service we offer, and location we work in! Yes we install home theater systems with our own designs or yours! We know that the layout of your room must be taken into consideration in order to complete the best setup possible. Your Atascocita, TX home can be configured with all of the home electronics and devices that you see in the stores. You want a reasonable TV Installation and Wall Mounting Service, we can help! We at Capitol Audio Video do it a little bit differently in Houston, TX and surrounding areas. Our home theatre or home theater services reach into Conroe, Crosby, Kingwood, Humble, The Woodlands, Mount Belvieu, North Houston and all of Houston's surrounding areas. Our home theater experience in installation and design is vast and targeted.
---
By the way, here is a picture that one of our customers posted on our FACEBOOK fan page! Also, this is what he said –
"Thanks again Adam! Your installation is incredible and I've enjoyed it all year! (we did finally get a couch)"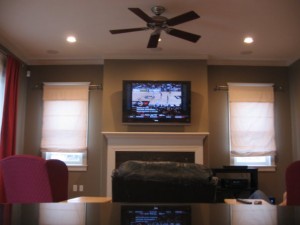 We installed the TV with an in ceiling surround sound – you can see the circles in the ceiling (this house was steel studded construction by the way)
Add us as a friend and become a fan of "Capitol Audio Video" on FACEBOOK! You can find us by searching in FACEBOOK, or clicking on the fan page link above!
---
We giveaway up to $500 in free home electronics gear every month on our FACEBOOK fan page! Add "Capitol Audio Video" as a friend on FACEBOOKand become a fan of our page!
Please fill out our contact form here so that we can be best prepared to serve you.
Residential Services

(Equipment Sales, Design, Installation)

Commercial Services

(Equipment Sales, Design, Installation)

Custom Home Theatre
Conferencing Facilities
Custom Media Room
Training Rooms
Whole Home Audio Distribution
Board Rooms
TV Installation (Wall, Fireplace, Patio)
House of Worship
Surround Sound Systems
Bars, Restaurants, Retail Stores, Fitness Centers
ISF Certified TV Calibration
Projectors & Screens, TV's
In-Wall Speakers, Outdoor Speakers
A/V Systems Integration
Home Automation & Technology Integration
Phone Systems
Volume Controls
Data/Voice/Networking/Cat 5/Cat 6
Remote Programming
Security Systems
Basic Equipment Hookup
Home Pre-Wiring & Retro Room Wiring
We are a small company with low overhead, but years of experience and full insurance that you'll find with the big companies that charge higher prices. We offer the following services throughout Northeast Houston and beyond! Custom Home Theatre, Custom Media Room, Whole Home Audio and Distribution, TV Installation and Mounting (on Fireplace, dry wall, and outdoors your patio), Surround Sound Systems, TV Calibration, In Wall Speakers, Outdoor Speakers, Outdoor Audio Video, Projectors and Screens, A/V Systems Integration, Home Automation and Home Technology, Volume Controls, Remote Programming, Basic Equipment Hookup, Home Pre Wiring and Retro Wiring.
On the commercial end of projects, we offer AV Systems dealing with Conferencing Facilities, Training Rooms, Board Rooms, House of Worship, Bars, Restaurants, Retail Stores, Fitness Centers. Also providing commercial Phone Systems, and structured wiring including Data Voice, Networking, Cat 5, Cat 5e, Cat 6, Fiber Optic, Voip, rg6, coax, structured wiring,etc.
Give us a call today, and we'll be ready to set an appointment to discuss your needs, and goals!
713-385-6503
Home Theater Jersey Village Houston