Home Theater in Conroe is a very popular addition to any home in Conroe Texas. 713-385-6503, we are experts in the field and can help you achieve your home theatre system goals. We have been working in the local Conroe, TX area for years, have developed a base of clients to continually service, and look forward to assisting you with any home theater, audio video, home automation, home technology, or tv installation project.
---
By the way, here is a picture that one of our customers posted on our FACEBOOK fan page! Also, this is what he said –
"Thanks again Adam! Your installation is incredible and I've enjoyed it all year! (we did finally get a couch)"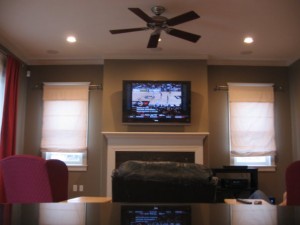 We installed the TV with an in ceiling surround sound – you can see the circles in the ceiling (this house was steel studded construction by the way)
Add us as a friend and become a fan of "Capitol Audio Video" on FACEBOOK! You can find us by searching in FACEBOOK, or clicking on the fan page link above!
---
The truth is, not all companies are made the same. However, we are a small business, owner operated that focuses on our clients goals and needs. We pride ourselves on service and quality workmanship for a fair price. We know that fair prices will always bide well, so we stick to it.
We can help you with your home theater design, product sales, and installation needs, just give us a call at 713-385-6503. Your home theater doesn't have to cost $10,000. We install surround sound systems, TV's (above fireplace, on drywall, on patios, etc.) and many other neat devices that bring you up with the technology on the 21st century. We install home speakers, projectors, recievers, amplifiers, universal remote programming, infrared devices for hidden components, and so much more. We have full access to affordable, professional brands via our long term local wholesale relationships. Give us a call and we'll get your home theatre needs on track with your budget and give you the sight and sound you've been waiting for.
We service the Conroe, Montgomery, Atascocita, Humble, Kingwood, Spring, The Woodlands, North Houston and other areas with home theater and audio video needs. We also install for commercial facilites, including conference rooms, bars, restaurants, fitness centers, and more. We look forward to helping you with your systems!
Capitol Audio Video TEAM!
Please fill out our contact form here so that we can be best prepared to serve you.
713-385-6503
Residential Services

(Equipment Sales, Design, Installation)

Commercial Services

(Equipment Sales, Design, Installation)

Custom Home Theatre
Conferencing Facilities
Custom Media Room
Training Rooms
Whole Home Audio Distribution
Board Rooms
TV Installation (Wall, Fireplace, Patio)
House of Worship
Surround Sound Systems
Bars, Restaurants, Retail Stores, Fitness Centers
ISF Certified TV Calibration
Projectors & Screens, TV's
In-Wall Speakers, Outdoor Speakers
A/V Systems Integration
Home Automation & Technology Integration
Phone Systems
Volume Controls
Data/Voice/Networking/Cat 5/Cat 6
Remote Programming
Security Systems
Basic Equipment Hookup
Home Pre-Wiring & Retro Room Wiring
Home Theater Jersey Village Houston