Home Theater in Galveston is a great addition to your beach house in the Galveston, TX area. We service Galveston, and areas north on I-45. 713-385-6503. We have been providing home theater, home audio video, and tv installation wall mounting services to local homeowners in Galveston for years. We also offer home automation, technology integration, and all home technology services to homeowners in Galveston Texas. We have a turn key operation for new construction beach houses as well.
---
By the way, here is a picture that one of our customers posted on our FACEBOOK fan page! Also, this is what he said –
"Thanks again Adam! Your installation is incredible and I've enjoyed it all year! (we did finally get a couch)"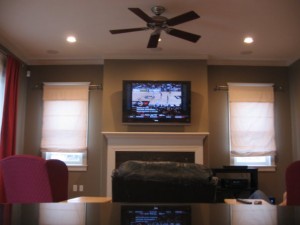 We installed the TV with an in ceiling surround sound – you can see the circles in the ceiling (this house was steel studded construction by the way)
Add us as a friend and become a fan of "Capitol Audio Video" on FACEBOOK! You can find us by searching in FACEBOOK, or clicking on the fan page link above!
---
We giveaway up to $500 in free home electronics gear every month on our FACEBOOK fan page! Add "Capitol Audio Video" as a friend on FACEBOOKand become a fan of our page!
Our expertise is not limited to installation of home theatre and audio video surround sound systems in Galveston, yet we also design and offer custom systems based on your goals and needs for the space. We understand that design is a big deal and you do not want a mess of wires and electronics taking away from the beauty of your beach house or home, and we have the most innovative wire management solutions available for you. Give us a call for any home theater, surround sound, projector, home electronics and even commercial audio video needs in the Galveston, Texas City, La Marque, Hitchcock, Tiki Island, Dickinson, League City, Webster, Nassau Bay, Kemah, Clear Lake Shores,  Taylor Lake Village, Bolivar Peninsula, East Beach, Jamaica Beach. We also service businesses for setups like bars, restaurants, conference rooms, training rooms, fitness centers and more.
We are your professional, fully insured, affordable custom home theater and media rooms solutions team! Call us today and we'll help you with the sight and sound you've been waiting for!
Please fill out our contact form here so that we can be best prepared to serve you.
713-385-6503
Residential Services

(Equipment Sales, Design, Installation)

Commercial Services

(Equipment Sales, Design, Installation)

Custom Home Theatre
Conferencing Facilities
Custom Media Room
Training Rooms
Whole Home Audio Distribution
Board Rooms
TV Installation (Wall, Fireplace, Patio)
House of Worship
Surround Sound Systems
Bars, Restaurants, Retail Stores, Fitness Centers
ISF Certified TV Calibration
Projectors & Screens, TV's
In-Wall Speakers, Outdoor Speakers
A/V Systems Integration
Home Automation & Technology Integration
Phone Systems
Volume Controls
Data/Voice/Networking/Cat 5/Cat 6
Remote Programming
Security Systems
Basic Equipment Hookup
Home Pre-Wiring & Retro Room Wiring
Home Theater Jersey Village Houston