The Woodlands, TX Home Theater is a great addition to maximize your entertainment per square footage. Home Automation Systems in The Woodlands also make sense to many home owners. Audio, Video, Security, HVAC, and Automated Lighting Control We are Capitol Audio Video, a company that offers Home Theater, Home Audio Visual, Smart Homes, Flat Screen TV Wall Mounting Installation, Commercial Audio Video services and much more. Whether or not you are looking for a high-end full blown custom home theater in The Woodlands, an outdoor patio A/V design with speakers installed, or a TV installed above a fireplace, our goal is to offer you the best Home Theater Store solutions per your budget, and the best quality service.
---
By the way, here is a picture that one of our customers posted on our FACEBOOK fan page! Also, this is what he said –
"Thanks again Adam! Your installation is incredible and I've enjoyed it all year! (we did finally get a couch)"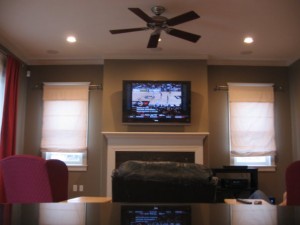 We installed the TV with an in ceiling surround sound – you can see the circles in the ceiling (this house was steel studded construction by the way)
Add us as a friend and become a fan of "Capitol Audio Video" on FACEBOOK! You can find us by searching in FACEBOOK, or clicking on the fan page link above!
---
We giveaway up to $500 in free home electronics gear every month on our FACEBOOK fan page! Add "Capitol Audio Video" as a friend on FACEBOOKand become a fan of our page!
We are a small business here to dedicate our services to all types of clients. Whether you have a large budget or small, its about using your budget effectively and value engineering with quality products. We have the knowledge and expertise to recommend the right system to fit your needs. Give us a call today. We serve The Woodlands Texas and surrounding areas! 713-385-6503
Residential Services

(Equipment Sales, Design, Installation)

Commercial Services

(Equipment Sales, Design, Installation)

Custom Home Theatre
Conferencing Facilities
Custom Media Room
Training Rooms
Whole Home Audio Distribution
Board Rooms
TV Installation (Wall, Fireplace, Patio)
House of Worship
Surround Sound Systems
Bars, Restaurants, Retail Stores, Fitness Centers
ISF Certified TV Calibration
Projectors & Screens, TV's
In-Wall Speakers, Outdoor Speakers
A/V Systems Integration
Home Automation & Technology Integration
Phone Systems
Volume Controls
Data/Voice/Networking/Cat 5/Cat 6
Remote Programming
Security Systems
Basic Equipment Hookup
Home Pre-Wiring & Retro Room Wiring
Whole House Audio Systems Design