Adding a Surround Sound System is a popular way of getting the most out of your game-room, family room, or other rooms in your home. The thing about surround sound systems is that you can get the same effects as you can with a dedicated home theater room in Houston, TX. Capitol Audio Video has adjusted our approach to find a happy medium to help people find the best option for they're surround sound design and installation in Houston.
---
By the way, here is a picture that one of our customers posted on our FACEBOOK fan page! Also, this is what he said –
"Thanks again Adam! Your installation is incredible and I've enjoyed it all year! (we did finally get a couch)"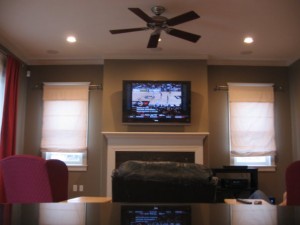 We installed the TV with an in ceiling surround sound – you can see the circles in the ceiling (this house was steel studded construction by the way).
If you think surround sound systems are too expensive, the first thing to look for in your home is pre-wired face plates attached to the ceiling in 5-7 places. This is a new feature coming standard with most new construction homes, and if you have a pre-wired room, you most likely just saved yourself $300-$600 on installation costs! See, your builder actually does do some good things for you! Get excited about your new surround sound or home theater in Houston, its time to live in the hi-def world, affordable and professional with Capitol Audio Video!
Another cool addition many people adopt is a flat screen tv installation where it makes sense: in the same game room, or family room. Many people absolutely love them above they're fireplaces in they're family rooms and we definitely recommend them as a very neat, yet affordable room upgrade! We can design a custom 5.1 system in most rooms where you decide to hang a tv. Basically, its like having a true media room. Give us a call to inquire about our service today!
Residential Services

(Equipment Sales, Design, Installation)

Commercial Services

(Equipment Sales, Design, Installation)

Custom Home Theatre
Conferencing Facilities
Custom Media Room
Training Rooms
Whole Home Audio Distribution
Board Rooms
TV Installation (Wall, Fireplace, Patio)
House of Worship
Surround Sound Systems
Bars, Restaurants, Retail Stores, Fitness Centers
ISF Certified TV Calibration
Projectors & Screens, TV's
In-Wall Speakers, Outdoor Speakers
A/V Systems Integration
Home Automation & Technology Integration
Phone Systems
Volume Controls
Data/Voice/Networking/Cat 5/Cat 6
Remote Programming
Security Systems
Basic Equipment Hookup
Home Pre-Wiring & Retro Room Wiring