How about this: Watch the Texans game in your living room with full surround sound, while your other half listens to her I-tunes playlist in the sitting room or out by the pool, and the kids play their favorite Pandora station in the game room.  Then, everyone might be happy at the same time, right? What if I told you this was all controllable from one system, and that we would arrange a vast array of speakers throughout the home to achieve your desired listening goals with easy control features? That is one example of how whole home audio distribution and home theater design integration can meet the needs of a family!
When we design a home audio system with or without a Custom Home Theater, the wiring layout is a big indicator as to how the system is designed to be setup. Homes in the Houston area can have some large square footage tracks, and pre-wiring is very important to the final product – your home entertainment. The issue with low voltage pre-wiring is that mistakes can start with the builder. It could be that the builder isn't aware of the standard wiring practices, and has a sub-par AV company that has installed wiring incorrectly. Whether or not you are an audiophile isn't important, the process is the same. There are quality levels that match different price points, but if you are considering a custom audio system in your new construction home, its always best to wire during construction, before the sheet-rock is hung.
We follow a structured system to achieve the best results possible, every time. In order to eliminate problems and risk, we take these proven professional steps to ensure a job well done.
Step 1 – Design Phase:
The design begins with discussing the distributed audio needs of the client, and selecting speaker and wiring pathways, and of course, the "home run". The "home run" is actually the place where all of the electronics will be stored once the job is finished. All of the wiring leads back to the "home run", usually a closet or space in a central location, but tucked away for this purpose alone. Some clients want speakers in every room, and others would rather just layout plans for speakers in 2 or 3 rooms, plus the back patio. The quality of equipment is determined at this time as well. If you are looking for a fully functional and really neat system, you'll want to look into a NUVO or Russound system. We work with these systems constantly.
On the other hand, you can get the job done cheaper by an adding an amplifier and/or speaker selector onto the selected receiver, with speaker selectors and volume controls in the right places. You can also get by with just a basic 1 zone receiver if you only desire one source to be played in multiple rooms, but most do not see the benefit in stopping here.
* Important tip: Its almost always pertinent to have a ventilation fan setup and planned for in the "home run" area. Closets can overheat, and cause equipment to fail and fry. Nobody likes the end result. Ventilation is a must.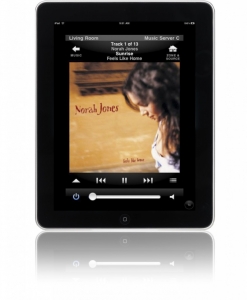 Step 2 – Low Votage Pre Wire:
Once the design is approved by the client, we will coordinate with other trades to run the wires per the plans for the desired system. All wire ends will be staged in a junction box to prepare for installation once the home's finish out process is complete. Both New Construction and Remodels have a Pre-Wiring Phase. Its always best to open up the walls for any pre-wire, it makes the project less labor intensive, and if you wait until after the drywall has been hung, it can create numerous headache's. Once the wiring is in place, then it is time for audio video installation and finalization.
Step 3 – Installation, Calibration & Configuration
Sure, you know its time to install custom speakers, but there is much more to the final step in the whole home audio process. Speaker holes will be cut, wires will be plugged in, and equipment will be setup in the desired "home run" area, yes. But what else happens at this time? If you chose to store you're equipment in a closet, its always best to have a "rack" to store all of the equipment in. This leaves for a cleaner look, easier management, and overall better for the client and the electronics integrator. If a unit fails, the repair or replacement will be easier and wire management is easier this way too.
Additionally, the equipment will need to be tested, calibrated, and configured. Once we test for optimal audio, make necessary adjustments and the programming is complete we will give the client instructions and training on how to use the system. At that point, the power is in your hands to enjoy your home entertainment!
What sources can i use when i have an integrated whole home music system?
Rhapsody, Pandora, XM Satellite Radio, ITunes, and much more.
Contact us on our Contact Page for more info. about your specific Audio needs.